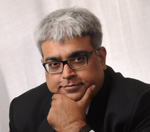 Born on June 17, 1968 in Jabalpur, M P, to a Cinema Manager, Shri Kapil Ponda and a School Teacher, Smt. Manjula, Sumeet was destined to be brought up as the only child of his parents from a very modest background. An introvert and a shy child from the very beginning, as a missionary School student, Sumeet had an inconsistent stint. By the yard-stick of the marks that he managed to score, he touched every end of the spectrum – from topping in the Class to barely managing to pass with grace marks. Routine studies did not fascinate him. However, his score in English in the Higher Secondary Examination in 1985 that placed him in the top bracket in the entire state gave him the required pep and he chose to take a path less treaded.
Going not by the popular trend of opting for a coveted engineering degree, Sumeet opted for a then less-popular graduation in Management from the Bhopal School of Social Sciences. He had, as always, full support of his parents in his selection of the course. One always propels to justify one's choice. Perhaps, that motivated Sumeet to top the University Exam in the first and the final years of his course.
An MBA was a natural choice then. Having qualified the entrance Examinations of the biggest institutes, Sumeet chose to stay in Bhopal and pursue his Post-Graduation from the only MBA institute in Bhopal, CRIM, Bhopal University. Keeping with the trend, he topped the University in the II, IV, V and VI Semesters eventually winning the Gold Medal. His dissertation on Hindi Feature Films as a consumer product in the Final Semesters won him not only rich accolades from reputed film-makers in the Country and the media but also got him offers from Bollywood.
He joined internationally acclaimed film-maker Shekhar Kapur as his Business Manager and also assisted him in the patch-work of his award-winning film 'Bandit Queen' and canned a few independent schedules of the shelved 'Time Machine' featuring Aamir Khan, Rekha and Raveena Tandon. He also learnt scripting from Vidhu Vinod Chopra during the pre-production phase of '1942-A Love Story' and editing from Mr. Naidu, the Chief Editor in Yashraj Films. But destiny has its own sweet ways of driving people.
His father's indifferent health brought him back to Bhopal and he joined his mother's dream, the Red Rose School, which she had started in 1977. The School was a middle School then but already was a known name. The base was ready for him to take the big leap. The School achieved the status of a Higher Secondary School then and shortly became a recognized name in the educational arena of Bhopal. It also grew in numbers. His first objective was to stabilize the School and introduce systems. 35 years already and the School is known for its high academic standards
The first branch of the School took shape in Arera Colony in 1997 which now is a beautiful and quality campus in Trilanga offering high quality education in a small yet functional nest. The next Red Rose School came up at Housing Board Colony, Karond in 1999 which now has become the most emotionally satisfying venture of the group as a part of its Corporate Social Responsibility where high quality education is being imparted at nominal fee. The newest Red Rose School came up at Lambakheda which is now the Flagship School of the group with its huge and vast campus meeting international educational and infrastructural standards. It is the first School in Bhopal to have introduced the Smart School Concept with Educomp and has also won the National Computer Literacy Award instituted by the Government of India apart from many other awards. It is also the first and only School in the State Capital to be affiliated to the Cambridge International, UK.
As regards his philosophy of education, Sumeet believes that our system of education is flawed and needs a total revamp. The conventional approach to education where marks only matter needs to be given a face-lift and the educational institutes must focus on complete development of the individual rather than only scholastic development. He advocates tension-free education for the young ones and believes that if a child is not able to enjoy his or her childhood, then the education is a wasteful exercise. Make children street-smart and not book-worms is his prophecy.
Sumeet Ponda strongly believes that if India were to grow, it must groom its students to become entrepreneurs and create employment and wealth. It is with this focus that the Red Rose Group came up with a new, concept management College – the M K Ponda College of Business and Management in 2007. Designed as a no-placement College, the Institute already has given scores of new-breed entrepreneurs who have created jobs for others too.
In the Capital, The Red Rose Group imparts quality education to thousands of students and already thousands of its ex-students have collaborated in the growth of the Nation. The Group now is on a state-wide expansion trail with more Schools and Colleges coming up in semi-urban towns and cities.
Sumeet's philosophy of education that it is a method of sensitizing children and it is not marks that maketh a man but a child's success lies beyond marks has won him many prestigious awards like the Rashtriya Vidhya Samman Puruskar, the Educational Excellence Award, Gujarat Shiksha Ratn Puruskar Rajiv Gandhi Educational Excellence Award, Vidya Ratan Gold Medal, Best Educationist Award, among many others.